Best Intercede MyID Alternative - EZCMS Is The #1 Smartcard and FIDO2 Solution for Azure
Don't settle for Intercede MyID - try Keytos EZCMS Instead
At Keytos we understand that security and ease of use are top priorities for your organization. That is why we have developed a powerful and easy-to-use passwordless credential management system (CMS) with industry leading yubikey attestation that makes it easy for users to self-service onboard to your organization. EZCMS does not stop at creating the user credentials, it can also help your team distribute hardware tokens and smart cards, or if you prefer, leave the logistics to our team of experts allowing your IT team to focus on other pressing tasks.
Create a Secure Smartcard and FIDO2 onboarding solution In Minutes
While we would love to talk to you about your passwordless plan, we do not hide our CMS and pricing behind a sales call, as a Microsoft partner we are excited to offer our solution in the Azure Marketplace, follow our deployment documentation and onboard your first FIDO2 key or Smartcard in less than an hour.
Reduce Help desk Calls with Best-in-Class User Experience
While the regular IT assisted smartcard creation for PIV onboarding is available. Our modern onboarding experience allows your users to self-onboard, either by scanning their face and their government ID, or by having a valid online identity for your organization. Our remote onboarding technology also protects you from supply chain attacks by having hardware attestation and key assignment
PKI that Meets Your Needs
EZCMS enables you to create smartcard certificates either by easily connecting to your existing ADCS Certificate Authority or by leveraging our Azure Based PKI allowing you to create a secure and compliant Certificate Authority in Azure.
Intune SCEP Certificates
If your passwordless roadmap also includes Intune SCEP certificates for your devices, Keytos EZCA is one of the Certificate Authorities recommended by Microsoft.
Why Choose EZCMS?
Native Microsoft Integration: EZCMS stands as the first and only passwordless onboarding tool, natively integrating with Microsoft to support all three major authentication methods offered in Azure: Certificate-Based Authentication (CBA), Fast Identity Online 2 (FIDO2), and Phone Authentication. What truly sets EZCMS apart is the wealth of knowledge and experience behind its creation. Built by an expert team of ex-Microsoft engineers, this solution is built to meet the requirements of of the organizations with the strictest compliance requirements. This same team of experts is available to help guide you in your passwordless journey book a free identity assessment with one of our engineers accelerate your passwordless adoption.
Infrastructure That Meets Your Needs: While we offer our convenient SaaS offering, we understand that identity security is not one size fits all, EZCMS adapts to your needs and is able to be run in your own cloud (including government cloud) or on-premises servers and HSMs.
Avoid Logistics Nightmares: With the move to remote work, delivering hardware around the world has become one of the biggest challenges for IT teams deploying hardware-based authentication. With EZCMS there is no need to create service now tickets and manually track your inventory, you can either use our integrated logistics software, or outsource your hardware assignment and distribution to our team of experts.
Transparent Pricing and no Minimum Number of Users: At Keytos, we believe in the power of inclusive innovation, thus we have made our passwordless technology pricing available online and accessible to everyone. Regardless of the size of your business, be it a small start-up, a mid-size organization, or a large enterprise, you can go passwordless for less than what it costs to buy a cup of coffee a month.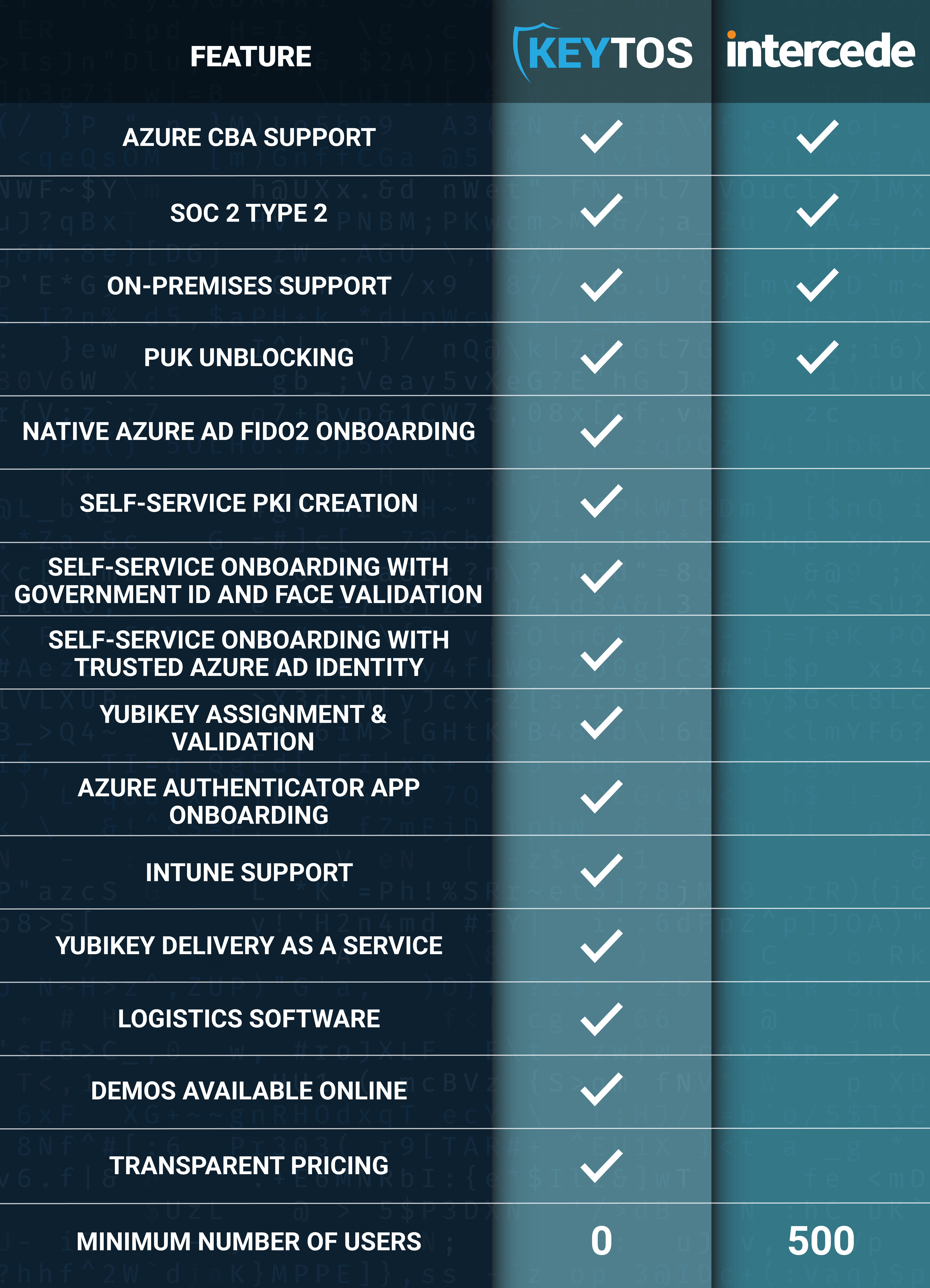 You Might Also Want to Read
Start Your Passwordless Journey
: Talk to our identity experts to see which passwordless authentication method is best for you.
Schedule a Call