Onboard to Azure CBA with EZCMS
Revolutionizing Certificate-Based Authentication in Azure
Azure CBA offers a groundbreaking approach to user authentication, allowing direct authentication with X.509 certificates against Azure Active Directory (Azure AD). Ditch the traditional, cumbersome federated authentication and embrace the future of phishing-resistant security.
Passwordless authentication is much more secure than the usual, run-of-the-mill username & password authentication. Whether you're trying to remain compliant with industry standards, want to protect your IP, want to save money, or you're just passionate about security - Azure CBA might be right for you!
Why Go Passwordless?
Passwords have become an outdated and problematic security measure, as evidenced by the statistics. In 2021, over 6 billion credentials were leaked, and more than 60% of breaches were caused by stolen credentials. While this might not seem like a critical issue, no organization is immune from cyber-attacks. Last year, over 90% of organizations reported being targeted by phishing campaigns. To combat these attacks, organizations have implemented stricter password policies, making it increasingly difficult for users to create and remember secure passwords. As a result, password resets account for 20-50% of help desk calls, costing an estimated $360 per user every year.
Going Passwordless By The Numbers
Zero
Account Takeovers
92%
Support Cost Reduction
4x
Faster Logins
Going Passwordless - Why Choose Azure CBA?
Before Azure CBA, organizations were encumbered with federated certificate-based authentication, mandating the deployment of Active Directory Federation Services (AD FS), Active Directory Domain Services (AD DS), Active Directory Certificate Services (ADCS), and legacy smartcard onboarding tools such as MIM CM for X.509 certificate authentication against AD. Azure CBA paired with EZCA and EZCMS, move all the infrastructure to the cloud, giving you unphishable credentials, without the need to manage any infrastructure.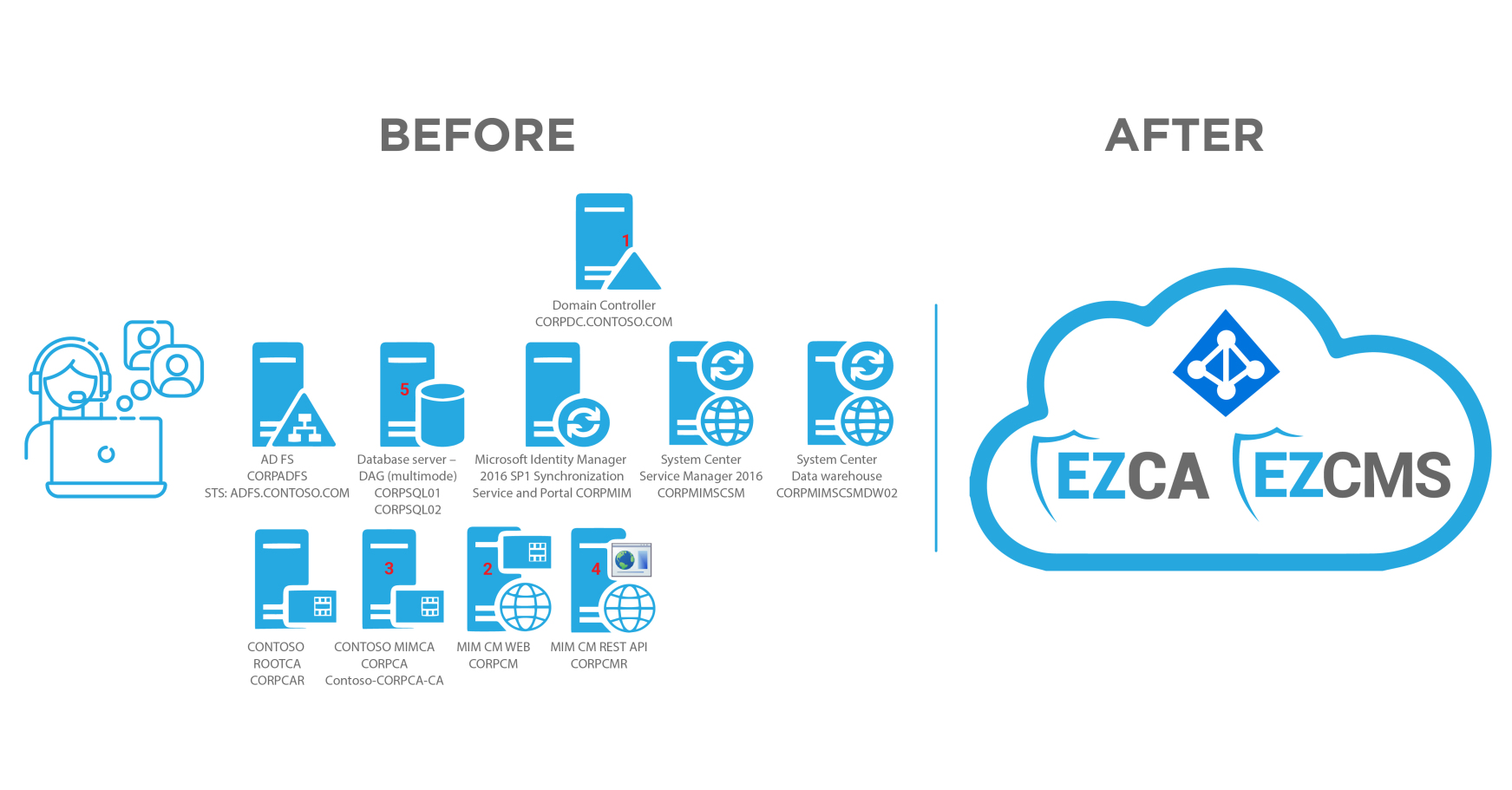 EZCMS - Azure CBA Certificate Creation Made Easy
The FIRST & ONLY Azure AD passwordless onboarding tool to support all 3 major authentication methods in Azure (Azure CBA, FIDO2, and Phone Authentication) using a modern tool such as EZCMS enables you to onboard your users with a self service experience without one time passwords (TAP) making it more secure while also freeing up your IT help-desk team to focus on other tasks.
Passwordless Onboarding User Experience
SmartCard Printing and Onboarding
If your organization leverages SmartCards, you're in the right place! Smart card implementation complexity has been a major barrier to entry limiting its adoption primarily to federal governments and government contractors. With the creation of Azure CBA (Certificate Based Authentication) and EZCMS, this secure authentication method is now available to all Azure customers. From the smartcard purchasing, printing, and shipping; the Keytos team and tools are here to help you along the way.
How To Get Started With Azure CBA
Getting started with Azure CBA is easy! All you need is an Azure AD tenant and a smartcard or a YubiKey. Once you have that, You must set up EZCMS with EZCA, and start rolling out your passwordless authentication
Join The Passwordless World With Keytos and Microsoft
Talk to one of identity experts on how passwordless authentication meets your zero-trust road map
Talk to Identity Expert