06 Nov 2023
Cloud-Based PKI for Intune
For the longest time now, the tech community been patiently waiting for our buddies at Microsoft to FINALLY build at Cloud PKI for Intune. But as the universe would have it, this vision didn't materialize. Shocking, I know. But, to be fair, they did re-brand AD to EntraID… so they've got that going for them… Luckily for us, Microsoft has graciously decided to shine its spotlight onto EZCA by Keytos — a revolutionary cloud-based PKI tailored for Intune. Built by former Microsoft Cloud PKI Engineers, EZCA is clearly the best option for organizations looking to button-up their security best practices around Intune certificates. If you're eager to upgrade your Intune PKI, keep on reading.


Cloud-Based PKI Made Easy with "Simple" Integrations
As we move into 2024, EZCA continues to make waves in the Identity and Authentication industries by rolling out its capability to issue Simple Certificate Enrollment Protocol (SCEP) certificates tailor-made for Intune. Wondering what SCEP is and how it works? Click on the last sentence and read up on the topic! If you're looking for some more technical info, our user-friendly documentation on issuing SCEP certificates for Intune has you covered.

Here's where the real value lies…with EZCA you can say "adios" to…

1) Bulky on-site certificate authorities

2) Old-school Hardware Security Modules (HSMs)

3) Outdated Certificate Revocation List (CRL) servers

4) Cumbersome SCEP servers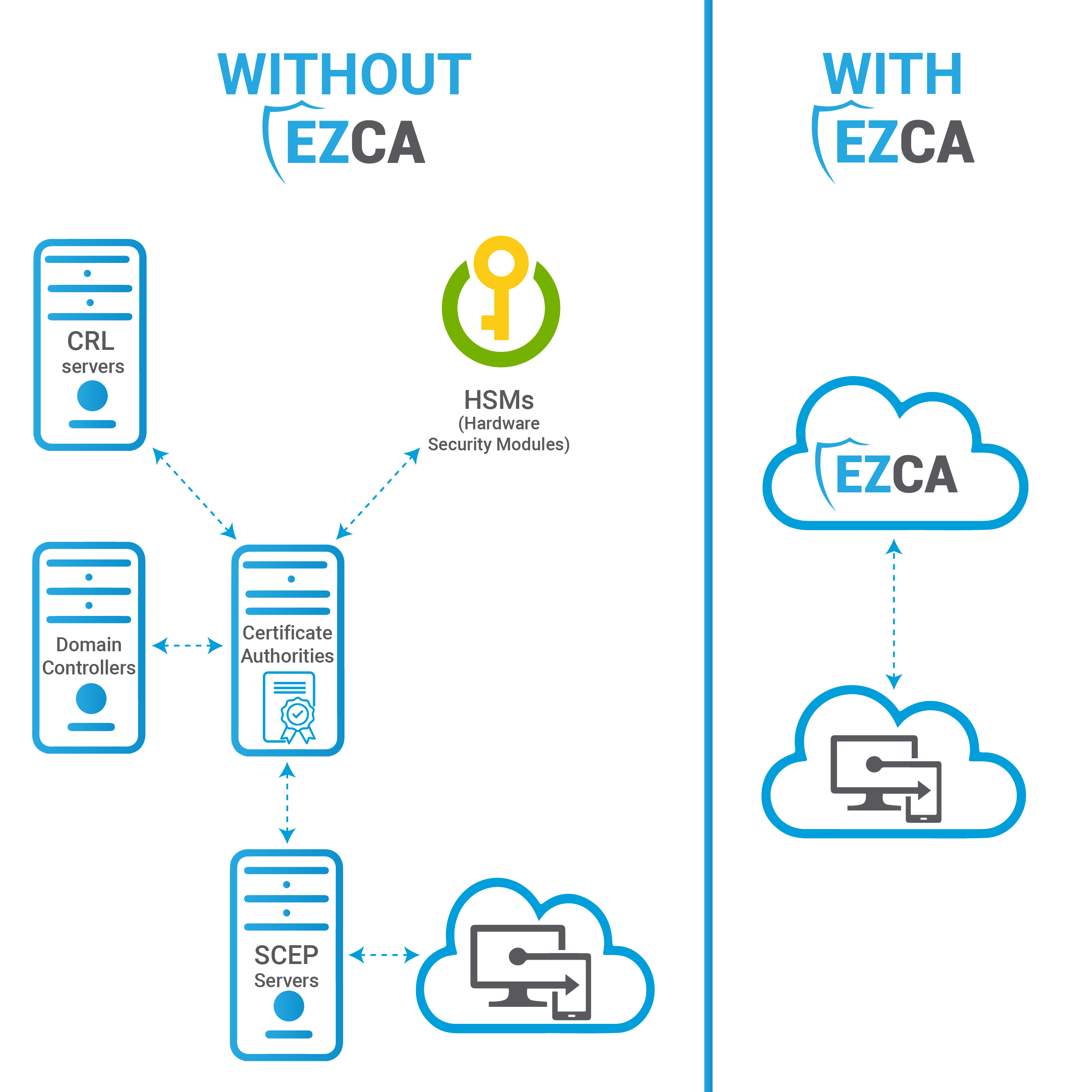 Our cloud-powered Intune PKI solution ensures that SCEP certificates management is a breeze. No hefty teams, no intricate infrastructure—just seamless efficiency. At Keytos, just like our buddies at Microsoft, we're confident that passwordless authentication as tomorrow's tech trend. …it's actually happening right now, very quickly, but you know what I'm saying.


Update Legacy ADCS to Cloud PKI
Still holding onto your age-old ADCS certificate authority? We know it's tough to let go, but let's get real here. It's time for an upgrade. EZCA not only mirrors all legacy CA functionalities but also takes away the headaches of maintenance. Besides Intune SCEP certificates, EZCA is your go-to for domain controller certificates, regular ol' SSL certificates, service-to-service authentication, and even smartcard certificates.


Safety Meets Compliance – Cloud PKI for Intune
While the charm lies in EZCA's simplicity, it's built upon the rock-solid foundation that is Azure. Our commitment to stringent security measures and surpassing international compliance benchmarks is unwavering. With EZCA steering the ship, rest assured, your Intune PKI sails in world-class waters.


Getting Started with Cloud PKI for Intune
We know what you're really here for: learning how to set up Intune PKI with EZCA! Here's how:

1) Register the Keytos application in your tenant and register the EZCA Intune application in your tenant. This allows EZCA to authenticate your users and check the certificate request status in Intune to then issue certificates to your Intune managed devices.

2) Create your EZCA instance in Azure

3) Create your Intune CA

4) Create your Intune device profiles and start issuing secure certificates to your users' devices!


See How Easy Cloud PKI for Intune Can Be
We've highlighted the passwordless future (present? …whatever…) throughout this piece. Beyond just understanding how EZCA paves the way for SCEP certificates on Intune devices, the real challenge lies in transitioning users to passwordless paradigms. Hungry for more insights? Check out the blogs below!
You Might Also Want to Read